INVISALIGN & CLEAR ALIGNERS
IN ORLAND PARK, IL
At Sonneveld Orthodontics, we aim to offer the best when you're looking for orthodontic treatment in the Orland Park, Oak Forest & Tinley Park areas. Not only do we provide a comfortable, relaxing office environment and high-quality orthodontic care, but we also strive to provide the latest and most advanced options in orthodontic treatments. We understand that patients are different and have varying needs, so we offer several options you can choose from in regards to the orthodontic treatment that's perfect for you and your situation. As your trusted Orland Park orthodontist, one such option that we're glad to offer you is clear aligners, more commonly known by a brand name, Invisalign.
WHAT ARE
CLEAR ALIGNERS (INVISALIGN)?
Clear aligners are known as the alternative to braces. Invisalign is the most popular, trusted and widely available brand of clear aligners currently on the market. While traditional braces move your teeth using metal wires and brackets, Invisalign uses removable polyurethane plastic aligners to move your teeth into place. One of the major advantages of clear aligners is that they offer a virtually discreet orthodontic treatment process. Many adults may be hesitant to wear metal braces because they don't want to be seen in them. Invisalign fixes that by using clear aligners, so others won't even realize you're undergoing orthodontic treatment.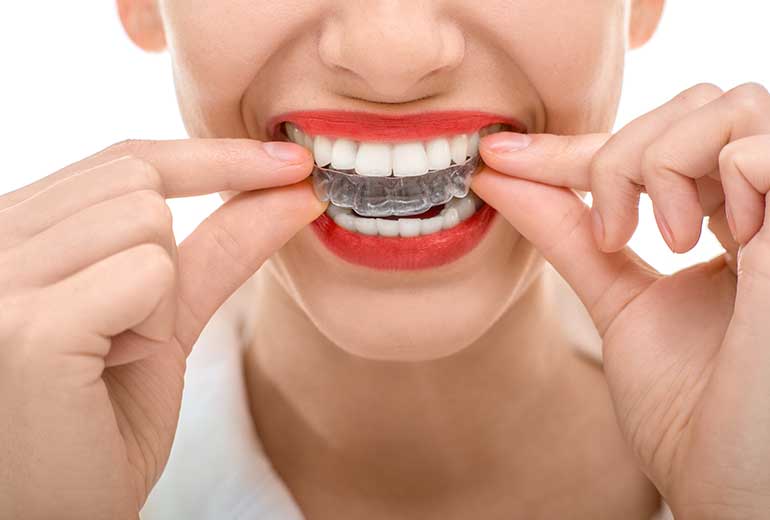 HOW CLEAR ALIGNERS & INVISALIGN WORK
Clear aligners have the same essential function as traditional braces: applying carefully controlled forces to your teeth to move them into a better position. However, the way clear aligners go about that process is vastly different, and we use advanced digital technology to create a unique treatment plan for each patient.
The process follows these steps:
We start with an office visit to determine if you're a candidate for clear aligners (Invisalign).
If you're a candidate, we'll take pictures and x-rays of your teeth so we can create 3D images of them. We do this with our state-of-the-art iTero Scanner.
Drs. Tom & Craig Sonneveld will then craft a plan for moving your teeth into the best possible alignment. With this plan, a series of aligners will be created and are fitted specifically for you.
These aligners are meant to be worn in a designated order for one-to-two week intervals at a time. After each interval, you'll move on to the next set of aligners. You'll continue this process until you've worn all of the aligners and your teeth have reached their intended positions.
While Invisalign was once only recommended for adults, we now offer Invisalign Teen, a treatment option that's perfectly suited for younger patients.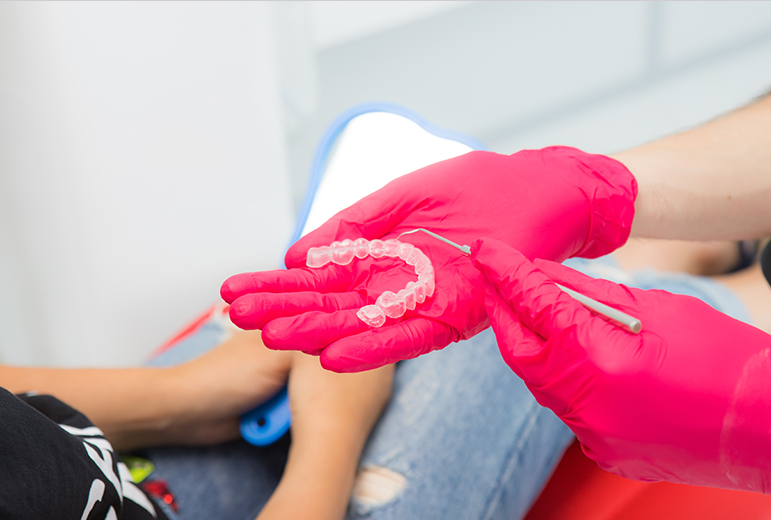 PROPER ORAL
HYGIENE WITH CLEAR ALIGNERS & INVISALIGN
Caring for your teeth with Invisalign is actually just the same as caring for your teeth without it. Because clear aligners are removable, you can continue brushing and flossing your teeth the same way you did before undergoing orthodontic treatment. However, in addition to brushing your teeth, make sure to brush your aligners, too! You'll need to clean them regularly by brushing them and then rinsing them in lukewarm water.